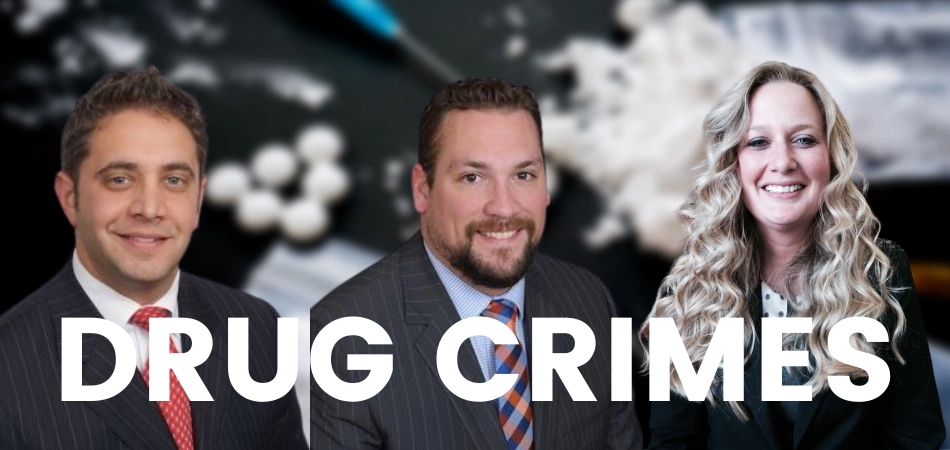 Kansas City Drug Crimes Defense Attorneys

---
At SRC Law Group, LLC, our drug crime lawyers have more than 25 years of combined legal experience. We have spent decades on both sides of the courtroom, ranging from prosecution to defense by trial. We proudly represent people charged with drug crimes such as drug possession, possession of paraphernalia and more in surrounding counties of the Kansas City area.
What Makes Our Drug Defense Attorneys the Right Choice for You?
Results-Oriented Legal Counsel
We use our experience to your benefit. This means your case will be investigated thoroughly and we do not simply settle for the easiest plea deal. We will listen to your side of the story and fight tenaciously to champion your cause.
Free Initial Consultations
You can get started on your case with no-obligation. It will cost nothing to learn about your rights and learn how our team can provide a defense for your specific charges.
There Is No Such Thing as a Minor Drug Conviction.
Even if you do not go to jail, any drug conviction will result in a permanent criminal record that may follow you around for the rest of your life. That record could prevent you from obtaining student loans or finding a good job.
Questions about your rights or defense options? Need to speak with a professional about your drug crime matter? Call our office at (913) 948-9311 to get started.
Prior Drug Prosecution Experience Can Work to Your Advantage
Our attorneys have years of experience prosecuting drug crimes and felonies with the District Attorney Office. You can use their extensive knowledge of forensics to your benefit as he defends you against criminal allegations.
Drug Crimes Our Law Firm Handles
Cocaine, Crack, and Narcotics Charges
Drug Manufacturing
Minor In Possession
Possession With The Intent To Distribute
Because of this unique experience and sharp legal insight, our legal team possesses the ability to do all the heavy lifting – even in the most complex or incriminating cases. Do not wait another moment to speak with us and learn how we can protect your rights and freedoms after a drug-related offense.
In many situations, drug crime charges can be combatted due to a violation of search and seizure laws or an unlawful arrest. As your Kansas City drug crime defense lawyers, we can analyze whether the arresting police officer did anything illegal during the stop, search, or seizure of drug evidence. If there is an issue with the police tactics, we will work to get the drug evidence suppressed in court.
If there is a defense to your case, then we will work tirelessly to uncover it. Call us at (913) 948-9311 to request your no-obligation case consultation.
In the State of Kansas, law enforcement pursues and heavily prosecutes any potential drug crimes. Drug manufacturing, in particular, carries heavy penalties, as the law prohibits anyone from creating illegal substances, and even purchasing products that are known to create illegal substances or drugs.
At SRC Law Group, LLC, we have more than 25 years of combined legal experience fighting those charged with a drug crime or other serious criminal charges. Call today to discuss your legal options.
What Leads to Drug Charges?
It is up to prosecutors to determine if the elements of a drug charge are in place. First, it must be proven that the person intentionally or knowingly possessed the ingredients needed to manufacture drugs or the equipment. For example, if during the investigation, police uncover lab equipment used to manufacture meth (or methamphetamine), this might establish that there is probable cause to arrest someone for drug manufacturing.
Law Enforcement May Consider the Following When Evaluating Drug Crimes
The amount of drugs that were in the persons possession.
Whether or not you there was an intention to sell the drugs.
If the individual has sold drugs, particular to minors.
If convicted of drug manufacturing, one could face several penalties that may be a combination of fines, mandatory community service, probation, registration as a drug offender, and possibly even imprisonment. It is important that you seek legal representation as soon as possible from a Kansas City drug crime lawyer so that you know what to anticipate with regards to the criminal process.
At SRC Law Group, LLC, we understand that the prospect of being arrested for and convicted of a crime is a serious and stressful situation, no matter how minor or serious the circumstances may be. We know that this can be an overwhelming and difficult time to overcome. That is why we are here to help you fight drug manufacturing and any type of drug charges that might come your way.
Possession of a Controlled Substance in Kansas
All 50 states recognize and regulate controlled dangerous substances (CDS). However, each state has a say in what substances are considered controlled dangerous substances. Additionally, each state has its own penalties and consequences for illegally possessing CDS.
In Kansas, well-known drugs like Cocaine and Heroin are classified as CDS, along with the compounds used to create the drugs.
Kansas law breaks CDS into five categories or "Schedules."
Schedule I - These are the "most dangerous" drugs. They have a high chance of addiction and abuse with little to no medical value.

Schedules II-V gradually decrease when speaking on the chance of addiction and abuse, with Schedule V being the least serious.
If you've been arrested in Kansas for CDS possession, you'll want to speak with an experienced Kansas criminal defense attorney to discuss your rights.
Penalties for Illegal Controlled Substance Possession
As stated earlier, it is illegal to possess controlled substances in Kansas without a legitimate medical prescription. The penalties associated with CDS possession vary based on a few things.
The judge will base their decision on the Kansas Sentencing Guidelines, which is something that takes the accused individual's criminal history into account, meaning that every case is different.
We understand that being arrested on charges for possession of a controlled substance can feel like your life has been turned upside down. We also understand that it can be demoralizing to research how to fight your charges, only to find that there is no "one size fits all" solution, leaving you feeling hopeless.
Fortunately, our team of trusted Kansas criminal defense attorneys at SRC Law Group, LLC is here to help. For countless years we have been helping individuals fight their charges, allowing them to return to their best lives possible.
We pride ourselves on fighting for our clients with all we've got, and we're here for you if you need us.
What Is a Drug Recognition Expert (DRE)?
In the event you or a loved one is arrested for driving under the influence of drugs (DUID) in Kansas, law enforcement officials at the scene may request the assistance of a drug recognition expert (DRE) to determine whether you or your loved one is intoxicated by drugs (e.g. marijuana, cocaine, heroin, ecstasy, meth, PCP, GHB, opioids, etc.).
DREs are police officers who are trained and certified to perform this task.
DUID in Kansas Occur When:
You are operating a motor vehicle and you have ingested one or more drugs—or a combination of alcohol and drugs; and
You experience substantial physical and/or mental impairment from the drug and/or alcohol and prevents you from exercising safe operation of the vehicle, sufficient physical control, and/or clear judgment.
In most cases, the arresting officer will call in a DRE when a driver passes a breath test but still appears intoxicated. DREs must adhere to ta 12-step process to make a proper assessment of a driver's intoxication.
The following are the 12 steps a DRE must follow to determine drug intoxication:
Breath Alcohol Test to ensure alcohol is not the cause of intoxication.
Learn about the arresting officer's observations during arrest.
Examine the suspect by taking his/her pulse to ensure drug use is not related to injury or medical condition
Conduct an eye examination (e.g. horizontal or vertical gaze nystagmus test)
Perform a psychophysical test (e.g. one-leg stand, walk and turn, finger-to-nose, etc.)
Check vital signs and check the pulse a second time.
Check pupils in different lighting conditions
Examine muscle tone
Search for injection sites and check the pulse a third time
After the suspect is given his/her Miranda warnings, interview the suspect
Assess all information and find an opinion about drug intoxication
Conduct a toxicological examination, such as a blood, urine, or saliva test
Whatever the DRE determines will not result in an automatic guilty verdict. Yet, the DRE's opinion helps the police and the prosecutor's case against you and will increase the likelihood of conviction.
Remember, you have the right to an attorney while the DRE evaluates suspected intoxication. Your criminal defense attorney will thoroughly investigate your arrest and determine whether the DRE made a mistake (e.g. the DRE's certification expired, the DRE improperly administered the 12-step process, or too much time passed between when the suspect was driving and when the DRE performed the evaluation process.)
LEARN ABOUT YOUR LEGAL OPTIONS
Take the next step and request your free consultation with a Kansas City criminal defense attorney.