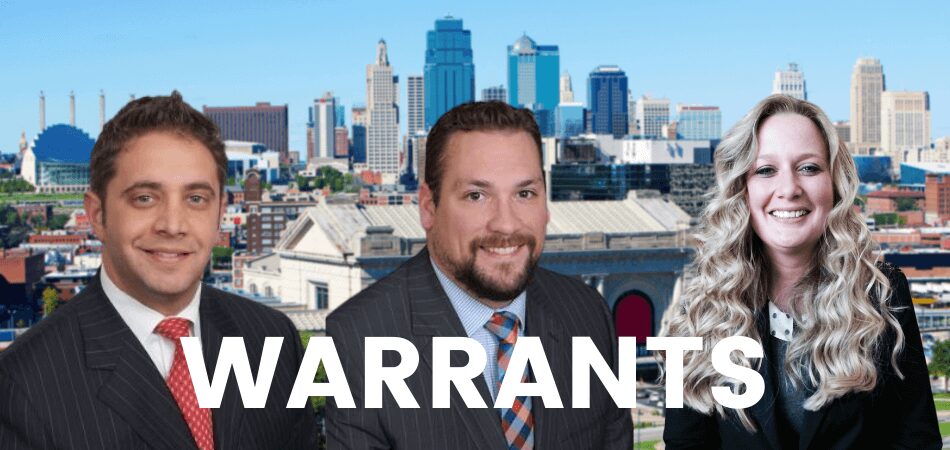 Kansas City Arrest and Search Warrants

---
On this page, we will define the different types of warrants in Kansas City. Below is an explanation of each kind of warrant that may be issued for you in Kansas City. If you have any type of warrant do not hesitate to call the
criminal defense lawyers
at SRC Law Group, LLC immediately. If you are contacted or called by the police do NOT give a voluntary statement before calling the criminal defense lawyers at SRC Law Group.
What To Do if You Have a Bench Warrant?
To avoid being arrested by the police, appearing in court is the best way to attempt to clear your bench warrant. A person can either appear in court on their own or with their lawyer. In some instances, especially regarding misdemeanors, your attorney can appear on your behalf.
An experienced criminal defense lawyer can present arguments that excuse your nonappearance or failure to comply with a court order and request your release from custody or on your own recognizance (OR) by promising to attend all future court hearings. Additionally, your attorney can set your bail at a low amount by proving you are not a flight risk.
Common examples of arguments include:
You never received the FTA notice.
You forgot to provide proof of completing all probation requirements to the court.
You were unaware of the existence of the case.
You were mistaken as someone else.
For more information about bench warrants in Kansas City area contact our legal team at SRC Law Group, LLC, and schedule a free consultation today.
How Can I Get a Bench Warrant Cleared in Kansas?
A bench warrant is often issued by a judge if a defendant fails to appear (FTA) in court, pay a fine, or comply with a specific court order. Whether you were charged with a citation, misdemeanor, or felony, a bench warrant can result in jail/prison time, a probation violation, increased fines, or license suspension.
Law enforcement will treat this type of warrant like an arrest warrant by first bringing you to jail and then later appearing in court. However, the police are not actively looking for those who are subject to bench warrants.
Instead, they are put into a statewide database. In the event you are pulled over or otherwise interact with law enforcement for any reason, you will be taken into custody.
The following are the consequences of bench warrants in Kansas:
FTA in connection with a misdemeanor offense is a class B nonperson misdemeanor, which is punishable by a maximum six-month jail term and a fine of no more than $1,000. FTA in connection with a felony offense is a severity level 10 nonperson felony, resulting in a prison sentence of up to seven months and a fine of up to $100,000.
If you fail to pay a fine or still owe bail, the judge may ask how much you can afford. The court cannot punish you for failing to pay restitution for not having enough financial resources. Depending on your income, a monthly amount and date to pay it all will be determined.
For example, if you fail to complete a term of probation, you will be issued a bench warrant to make an appearance in court and face a charge of probation violation.
What To Do After You've Been Arrested.
Getting arrested can be a frightening and stressful experience, no matter how many times it happens. Any wrong actions and negative behaviors can have a substantial impact on the outcome of your case. While your attorney (if you have one) is investigating your arrest, collecting evidence, and developing a strong defense strategy just for you, it is imperative to understand the proper steps to ensure that you are doing whatever it takes to avoid conviction of the crime.
The following are helpful ways that can benefit your case after getting arrested:
Tips on Navigating an Arrest
In the heat of an arrest, many individuals make mistakes that can make it difficult to reduce their charges down the road. Although it's natural to feel worried, frustrated, or even angry when you are detained by law enforcement, it's important to keep your cool and get through the experience with as little harm done as possible.
Keep these things in mind if you are going to be arrested:
Don't inflame the situation with your words or actions. This could only add to your charges down the road.
Comply with law enforcement, but not too much: Give your basic information to police, but do not try to convince them that you are innocent or tell them your side of the story. Your words could be twisted and used against you.
Get an experienced and qualified criminal defense lawyer on your side.
Once you have been arrested, you must speak with an attorney immediately. You have a legal right to contact a lawyer if you are taken into custody. If you cannot afford a lawyer, you can enlist the help of a public defender free of charge. However, public defenders have an overload of cases to handle, which means that they may not have the time and dedication to obtain the results you desire.
A lawyer will be able to help you navigate your situation and provide you with the counsel and guidance you need. An attorney will also make sure that your rights were not violated at any point during the arrest.
Avoid disclosing the details of your case with friends and family.
It is important to only speak to your attorney when discussing the specifics of your case, not your peers. There is a chance that they may be used as witnesses against you.
Keep a low profile throughout the legal process.
Avoid breaking any laws or involving yourself in situations which could jeopardize the chances of getting a favorable outcome in your case. Be on your best behavior. Furthermore, stay away from social media and avoid posting anything that may harm your case.
Dress appropriately for your court appearance.
First impressions are always important, especially in the courtroom. Dress as if you are on your way to religious service or a wedding. Avoid wearing hats, tank tops, short skirts, sandals.
Can Police Search My House Without a Warrant?
First impressions are always important, especially in the courtroom. Dress as if you are on your way to religious service or a wedding. Avoid wearing hats, tank tops, short skirts, sandals.
If you or the person in charge of the property gives consent without being conned or tricked into doing so, police can conduct a search without a warrant. Although consent can be interpreted broadly, it typically covers the common living areas such as your living room and kitchen. Without a warrant, police cannot enter your bedroom, bathroom, or other private rooms. If police are at your home without a warrant and ask if they can search your property, you are not obligated to agree to the search – you can politely state that unless they have a warrant, they cannot come into your house.
If a police officer spots evidence pertaining to a crime or criminal activity while lawfully on your property, they can seize the contraband without a warrant. For example, if officers are at your apartment answering a burglary call and can spot cocaine in your apartment through the window, they can search your residence and seize the drugs as evidence.
Oftentimes, when police are placing an individual under arrest, they will do what is known as a "protective sweep." During a protective sweep, police will search rooms and surrounding areas to try and uncover weapons or accomplices who may be hiding. A protective sweep should not take any longer than the time it takes to place an individual under arrest.
If you've been arrested or are being investigated for a crime, don't hesitate to contact a proven Kansas City criminal defense attorney from SRC Law Group, LLC. An arrest is not a conviction and there is still time to build the defense you need to safeguard your future.
LEARN ABOUT YOUR LEGAL OPTIONS
TAKE THE NEXT STEP AND REQUEST YOUR FREE CONSULTATION.