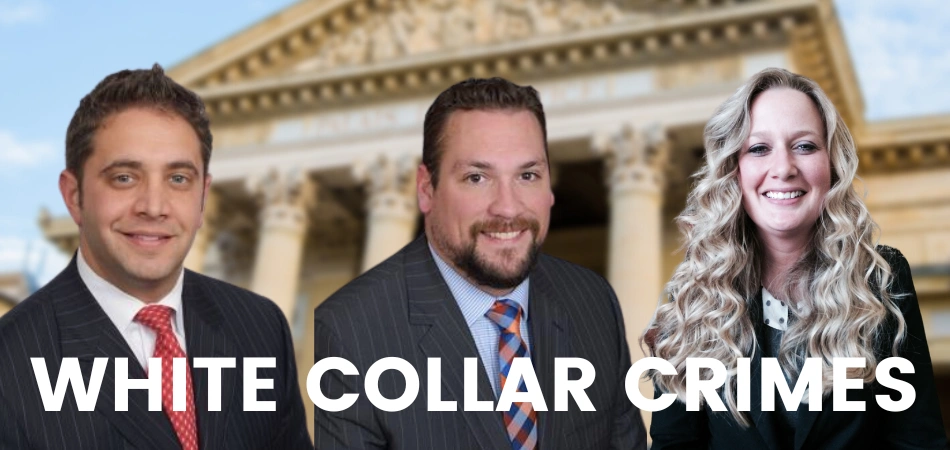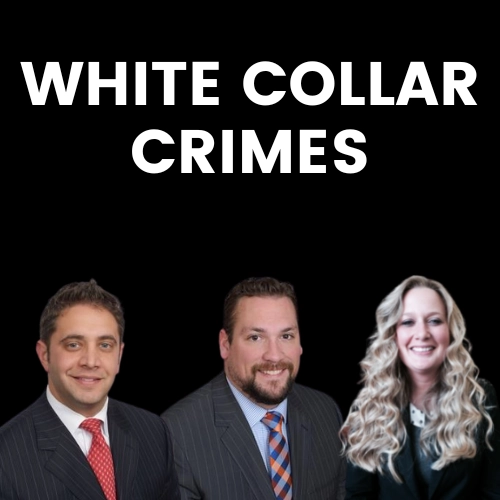 Kansas City White Collar Criminal Defense

---
No matter what your profession, being convicted of a white-collar crime can derail your entire career. Beyond fines and potential jail time, a white-collar crime conviction leaves you with a permanent criminal record, making it difficult to secure future employment.
For anyone charged with a white a collar crime, it is imperative to secure competent representation without delay. The Kansas City, Kansas criminal defense lawyers at SRC Law Group, LLC have more than 25 years of combined experience.
Punishment for White Collar Crimes can be Severe! Because the nature, scope, and execution of white-collar crime have evolved so dramatically in recent years, state and federal courtrooms have struggled to keep up. In fact, sentencing guidelines are often thrown out altogether by judges who believe them to be too archaic or too severe.
We can help you fight charges related to:
Computer crimes
Forgery
Money laundering
Tax evasion
Nevertheless, even the lighter sentences being handed down often exceed the average federal penalties for violent crimes. Sentencing for white-collar crimes is more varied than in any other area of criminal law.
Attorney Phil Stein's extensive experience in handling unique evidentiary and legal issues makes him a valuable asset for anyone facing white-collar criminal charges. As a founding attorney of SRC Law Group, his aggressive approach and comprehensive understanding of forensic evidence ensure that clients are well-defended against accusations of white-collar crimes. With a background as both a prosecutor and defense attorney, Phil possesses a thorough knowledge of the intricacies of the criminal justice system. His positive professional relationships with law enforcement and prosecutors can significantly benefit clients seeking the best representation possible.
Phil's background in biological forensics, DNA, crime scene processing, toxicology, ballistics, and computer/phone forensics enables him to analyze and dissect complex data trails, which are often the cornerstone of white-collar crime cases. By utilizing his skills and expertise, Phil can help clients navigate the challenges that come with defending against white-collar criminal charges. His experience in trying cases ranging from DUIs to homicides demonstrates his versatility and dedication to providing top-notch legal representation for clients in Kansas and Missouri.
Attorney Adam Chingren, a founding attorney at SRC Law Group, has established himself as a dedicated legal professional licensed to practice in both Kansas and Missouri. His background in civil litigation has provided him with a strong foundation in various aspects of the law, making him well-suited for tackling white-collar crime cases. This experience, combined with his deep understanding of criminal law, enables Adam to navigate the often complex and high-stakes world of white-collar criminal defense effectively.
During his tenure as a public defender in the 10th Judicial District of Kansas, Adam worked diligently on more than 500 felony cases, which encompassed a broad spectrum of offenses from DUIs to off-grid sex crimes and first-degree murder. This diverse caseload has equipped him with a wealth of knowledge and the ability to adapt to the unique challenges presented by white-collar crime cases. Adam's extensive trial experience serves as a testament to his dedication and commitment to ensuring justice for his clients.
In addition to his trial experience, Adam has successfully argued cases in District Court and before the Kansas Court of Appeals, demonstrating his prowess in advocating for clients at various levels of the legal system. His recognition as a nationally ranked Top 10 Under 40 attorney by the National Academy of Criminal Defense Attorneys in 2019 and 2020 further highlights his skill and dedication in the field of criminal defense. Clients facing white-collar criminal charges can trust that Adam Chingren will use his extensive knowledge, experience, and passion for justice to provide them with the most robust possible defense.
Attorney Ashley E. Repp, also a founding criminal defense attorney at SRC Law Group, brings a wealth of experience in the criminal law field. Her background as an assistant prosecutor in Platte County and Clay County, Missouri, has exposed her to a wide range of criminal cases, from DWI/DUI to sex-related offenses, manslaughter, and property-related offenses. Ashley's specialized training, including her certification as a forensic interviewer, demonstrates her commitment to honing her skills in criminal law.
Her approach to client representation is characterized by dedication, organization, and honesty. Ashley prides herself on maintaining open communication with clients and ensuring that each case is handled individually. As someone who is not afraid to fight for her clients, Ashley's representation can make a significant difference for those facing white-collar criminal charges. Her hard-working and driven nature ensures that clients of SRC Law Group receive the highest level of legal representation.
In conclusion, the combined expertise of the attorneys at SRC Law Group offers a formidable defense for those accused of white-collar crimes. With their diverse backgrounds and experience, attorneys Phil Stein, Adam Chingren, and Ashley E. Repp can provide comprehensive legal defense tailored to each client's unique circumstances. For anyone facing white-collar criminal charges in Kansas City, seeking the services of SRC Law Group is a crucial step in ensuring the best possible outcome for their case.
The most common type of embezzlement is billing fraud, followed by theft of cash.
Embezzlement occurs when an individual who is entrusted to manage someone else's money or property mismanages it for his or her own personal gain. Facing charges for a federal offense as serious as embezzlement can result in penalties that can derail your life, which is why it has never been more important to secure aggressive legal representation from a trusted criminal defense attorney.
At SRC Law Group, LLC, our Kansas City criminal defense team has 25 years of combined experience and can provide you with the legal representation you need to secure a favorable outcome. Regardless of how complex your case is, our firm can be trusted to defend your rights.
What Penalties Could You be Facing?
Embezzlement can be charged as a state or federal offense, depending on the circumstances of the crime. Under Missouri law, the severity of penalties depend on the value of the money or property stolen. Both federal and state penalties will include a fine and jail or prison time.
If charged as a Kansas state offense, embezzlement penalties can include:
If the money/property is valued at less than $500: Up to one year in jail and $1,000 in fines
If the money/property is valued at more than $500, but less than $25,000: Up to 7 years in prison and a fine of $5,000, or up to double the value of the money or property embezzled
If the money/property is valued at $25,000 or more: Up to 15 years in prison and fines up to $5,000 or double the value of what was embezzled
If charged as a federal offense, embezzlement penalties can include:
Felony embezzlement: Up to $250,000 in fines and/or up to 10 years of imprisonment
Felony embezzlement: Up to $250,000 in fines and/or up to 10 years of imprisonment
Misdemeanor embezzlement: Up to $100,000 in fines and/or up to one year of imprisonment
When your rights and liberties are at stake, your choice in representation matters. Should you hire the services of our embezzlement attorneys, you can trust that we will work towards nothing less than optimal results with your case. We understand there are two sides to every story and we are prepared to fight for yours.
Who Commits Embezzlement Crimes?
White-collar crimes are some of the most elusive offenses. Many people who commit embezzlement go under the radar for years. Researchers have set out to get a better understanding of what type of employee is most likely to commit embezzlement. Let's look into what they have concluded are some of the traits of an embezzler!
Personality Traits of an Embezzler
Many people who commit embezzlement exhibit the characteristics of an ideal employee.
Traits that embezzlers may exhibit include:
Intelligence: intelligent people know what will need to be done in order to 'successfully' commit the crime.
Curiosity: curious employees ask questions about company practices, giving them extra knowledge about how the company operates and what they will need to consider before committing embezzlement.
Risk-takers: an individual who exhibits a lot of risk-taking in their personal life may also be inclined to take risks when it comes to stealing from their company.
Ambition: an ambitious employee is never a bad thing. Embezzlers know this and may put extra effort into their work in order to not appear suspicious.
Some embezzlers report that stealing from the company was motivated by revenge, not personal gain. In these instances, they wanted to hurt the company more than they wanted to profit themselves
Other Interesting Statistics
Hiscox compiled interesting research about embezzlement offenses.
79% of cases involve more than one perpetrator.
The average company loss from embezzlement is over $350,000.
31% of embezzlement crimes continued for over 3 years.
One-third of embezzlers work in the finance or accounting department.
85% of embezzlement is committed by individuals in manager positions.
Embezzlement Defense Lawyers
If you are being accused of committing embezzlement at your workplace, it is crucial that you reach out to a defense attorney as soon as possible. This is a serious charge that not only comes with the risk of prison time and hefty fines, but can do severe damage to your career and future. At SRC Law Group, we want to help you fight your embezzlement charges. Call us today at
(913) 948-9311
to discuss your case with our Kansas white-collar crime lawyers.
Contact Our Firm Today for a Free Consultation
Whatever scenario has resulted in you being investigated, SRC Law Group, LLC can thoroughly evaluate the evidence and build a strong defense on your behalf. Our attorneys are devoted to protecting your rights, freedom, and future.
Do not hesitate to call us to arrange your free initial consultation. We can be reached online with the email form below.
If you've been arrested or accused of criminal fraud, you may be facing serious fines and jail time. Regardless of your profession, being charged with a white collar crime can threaten your career and any future professional endeavors – when your rights and liberties are hanging in the balance, you should not hesitate to secure the defense you need.
At SRC Law Group, LLC, our Kansas City, Kansas criminal defense lawyers have more than 25 years of combined legal experience in defending clients in a wide range of criminal cases. Our firm maintains a Superb AVVO Rating of 10.0 and we've been honored to receive recognition from the National Trial Lawyers . Our achievements and accolades are a testament to the unwavering dedication we have for our clients and the service they receive.
Criminal fraud is a crime that involves deception and intentional misrepresentation for your own personal benefit and gain. There are different types of fraud crimes – both federal and state – that can vary in punishment, depending on the nature of the crime, how much financial damage was done, and the role you played in the offense.
Criminal fraud can include:
Credit card fraud
Bank fraud
Tax fraud
Mail and wire fraud
During a time of crisis, we understand that you may feel as though you've lost control of your life – and in a system that can feel overwhelming, you may be feeling hopeless. At SRC Law Group, LLC, hope is anything but lost and our Kansas City criminal defense attorney can work tirelessly to fight any evidence presented against you. Every client deserves an aggressive defense strategy, and you are no exception.
Credit card fraud occurs when people use credit cards to purchase items or services with no intention of actually paying for them. Credit card fraud may also occur after identity theft. Each year, credit card fraud results in billions of dollars of losses.
When individuals lie to insurance agencies and make false claims to gain profit, this is insurance fraud. Similarly to tax fraud, you will not be charged just for making a mistake on your reports. You must have the intent to defraud a company or individual.
Insurance fraud is common involving:
Automobiles
Healthcare
Workers' Compensation
Property
You May Be Accidentally Committing Fraud.
When tax season comes around, many people joke that they may be accidentally committing fraud simply because they aren't sure what they are doing to file their taxes is correct. Online tax assistance programs seek to make it easier for taxpayers, but mistakes still happen relatively frequently. You may be wondering, if you make a mistake on your official tax return or other forms, could you potentially be charged with fraud?
Ways of Committing Fraud:
This is one of the most common tax violations. When people intentionally commit fraud by underreporting income, it is so that they will have to pay less back in taxes. However, some people may also do this accidentally. For example, forgetting to report earnings from any side gigs like driving Uber after work.
Some people may also deliberately choose to underreport income but are unaware that what they did is substantial enough to warrant a federal tax fraud charge.
Inaccurately Claiming Dependents
A dependent is a child or relative of the taxpayer. When the taxpayer claims one or multiple dependents, they receive financial benefits.
Valid dependents are:
Children under 19 years old or younger
Children 24 years or younger if they are a full-time student, have been a full-time student for five months of the tax year, or are permanently disabled.
If an individual believes that their children of any age can be claimed as dependents, they could be found guilty of inaccurately claiming dependents. Make sure you know who qualifies as a dependent before filling out your forms.
It's clear to see how this error can happen by mistake. If the individual leaves information blank on their tax forms, they could receive a penalty.
Inaccurately Representing Donations
Making charitable donations can help lower your taxable income. However, some people are so eager to get this benefit that they report donations that do not apply. For example, if you received anything in exchange for your donation, you cannot report that contribution in your taxes.
Additionally, always be cautious about which organizations you donate to. If you donate to an illegitimate charity and report it on your taxes, this could also lead to unexpected trouble.
A tax deduction is a deduction that limits an individual's taxable income.
Some common deductions include:
Property taxes
Medical expenses
Education credits
Student loan interest
IRA contributions
401k contributions
However, overstating or exaggerating your deductions is considered fraud. If you thought it was okay to bend the truth a little to save some extra money, or if you believe you've accidentally included expenses that do not qualify as deductions, you're not alone. It is estimated that nearly 75% of Americans make deduction errors.
Filing taxes can take a lot of time and energy, which are things that some people lack. Some may choose to put off their taxes and miss the filing deadline. However, Americans have the duty to file taxes. If you do not, you can be charged with fraud for withholding your information.
Whether you intentionally or accidentally failed to file your taxes is a critical factor for what your potential penalty could be.
Penalties for Accidental Tax Fraud
If you made negligent mistakes on your taxes, you could face financial penalties.
The most common penalty payment for accidental tax errors are "substantial underpayment penalty" and "negligence or disregard of rules and regulations." If you are found guilty of one of these errors, you could be required to pay an additional 20% of what you underpaid.
If the IRS finds that you intentionally made errors or lied on your tax documents, you can face criminal fraud charges.
If convicted, penalties include:
Up to five years of prison time
Hefty fines of up to $100,000
The good news is that simple oversights will not result in criminal fraud charges. If you made an innocent mistake on your taxes, you cannot be convicted of fraud, because you had no intent to commit a crime.
Fraud Charges Defense Attorneys
If you are being charged with a white-collar crime like tax fraud, our team at SRC Law Group is here to help you. Call us at (913) 948-9311 to begin your defense with our aggressive attorneys today.
Are you or a family member being investigated for participating in a mortgage fraud scheme? This is a serious criminal investigation that most likely has you feeling quite overwhelmed. As skilled Kansas City criminal defense attorneys, we can bring a sense of order to the matter before you.
Vigorously Protecting Your Rights
As with other types of white collar crimes, mortgage fraud can result in jail time and a criminal record. Additionally, your career may suffer along with your personal relationships. I take these potential penalties very seriously and devote my time and resources to building a strong defense on your behalf.
If you believe you are under investigation or are about to be investigated, do not hesitate to turn to SRC Law Group, LLC for assistance. If you have already been contacted by investigators, remember that it is important not to try to talk your way out of charges. The less you talk, the better.
As a skilled criminal defense attorney, we represent:
Business professionals
Appraisers
Realtors
Mortgage brokers
Others who are facing potential mortgage fraud charges
Our criminal defense lawyers understand the ways these charges can arise, such as banks encouraging people to take out more of a loan than they qualify for, sloppy lending, house flipping, banks not monitoring lines of credit, and other scenarios. We know that oftentimes good people can just get tied up with an unethical mortgage company.
Whatever scenario has resulted in you being investigated for mortgage fraud, SRC Law Group, LLC can thoroughly evaluate the evidence and build a strong defense on your behalf. Our attorneys are devoted to protecting your rights, freedom, and future.
If you've been arrested or are being investigated for identity theft near Kansas City, KS, securing the representation you need should be your first plan of action. At SRC Law Group, LLC, our criminal defense lawyers will work tirelessly to secure a favorable outcome in your case.
Although identity theft is primarily enforced at the state level, it is a white collar crime that can also be charged as a federal offense. In those severe cases, you can expect that a heavy hand in justice will be served – which is why you should not hesitate to begin building the defense you need today.
Standard identity theft occurs when an individual steals another person's identity. This may be done by:
Stealing identification cards
Stealing credit card or bank information
Stealing mail
Phishing schemes
Once this is done, the offender may use the stolen identity to open credit cards or take out loans.
Identity theft is a serious offense, which is punishable by jail or prison time, fines, and additional consequences.
Under the state's identity theft laws, the offense occurs when an individual uses the means of identification of another person in an attempt to deceive or defraud. The scope most identity theft laws are extremely broad and covers a wide range of criminal activity – from credit card fraud to false identification for minors.
Examples of "means of identification" can include:
Social security numbers
Passports
Credit card numbers
Fingerprints
Checking/saving account numbers
When facing a potential jail sentence, it can feel as though you've lost control of your life. At SRC Law Group, LLC, we strive to ease your worries by getting to know your story and your goals. When you hire our services, you can trust that you'll be seen as more than just a case number on the docket.
Aggravated Identity Theft
When people think of aggravated offenses, they often think of crimes that cause serious physical harm to someone or involve a weapon. Identity theft, however, is not a violent crime. Let's discuss what exactly aggravated identity theft is and the potential penalties.
Aggravated identity theft occurs when an individual steals someone's identity, then uses that identity to commit another crime. For example, using someone else's identity to commit healthcare fraud. Aggravated identity theft is typically a federal offense.
Aggravated identity theft comes with a mandatory two-year jail sentence, or five years if the subsequent crime was terrorism-related. The individual will also face penalties for the subsequent crime.
This act provides potential early release for aggravated identity theft offenders. For every 30 days of "successful participation," the offender may have 10 to 15 days removed from their sentence. However, if the offense committed after identity theft was a violent crime, this opportunity is unavailable.
If You're Facing Identity Theft Charges
If you are facing standard or aggravated identity theft charges, it is important to contact a defense attorney as soon as possible. Federal agents have countless resources for investigating and prosecuting these crimes. At SRC Law Group, we can help defend you against these charges. Get started with a free consultation.
LEARN ABOUT YOUR LEGAL OPTIONS
TAKE THE NEXT STEP AND REQUEST YOUR FREE CONSULTATION WITH A KANSAS CITY CRIMINAL DEFENSE ATTORNEY.