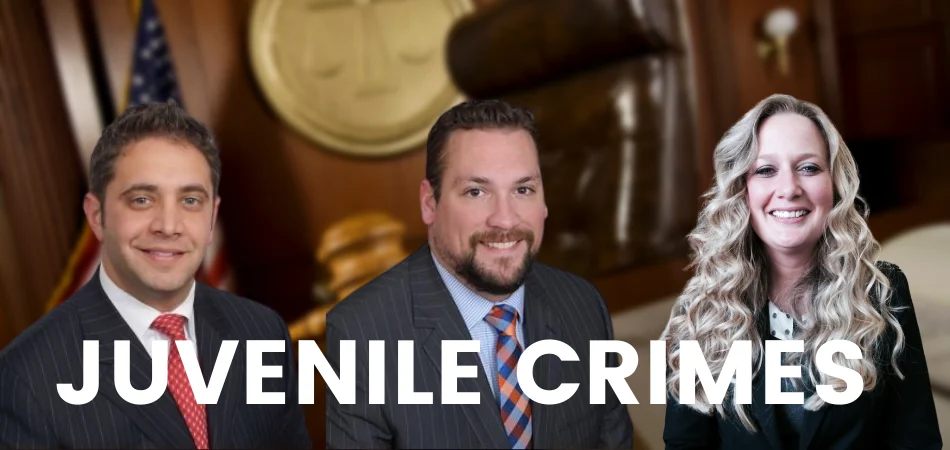 Juvenile Crimes Defense Attorneys

---
Minors who commit crimes in Kansas face serious consequences that may affect their future, including employment, schooling, the ability to obtain student loans, and more. If you or your child is facing criminal charges, seek the advice of a lawyer immediately.
With an experienced Kansas City juvenile criminal defense attorney by your side, you are providing yourself with the best opportunity to avoid a conviction or minimize penalties.
For over 25 years combined, our Kansas City criminal defense lawyers have worked with dedication to protect the rights of juveniles in juvenile court and the adult criminal system. We have extensive trial experience, including having worked in the past as a federal and state prosecutor. Put my experience to work for you.
Juveniles May be Prosecuted as Adults
Juvenile courts handle most minor offenses, such as:
Minor in possession
Underage drinking
Destruction of property charges
Petty theft
However, it is possible for a juvenile to be "waived" into the adult criminal system.
This most often happens when the juvenile is older and the crime committed is more serious, such as:
Aggravated battery
Aggravated robbery
When a juvenile case is waived into the adult criminal division, the juvenile will be charged and prosecuted as an adult. If this happens, you need counsel who understands how the adult criminal system works, as well as how the juvenile criminal defense process works.
Put Our Experience to Work for You
At SRC Law Group, LLC, our Kansas City criminal defense attorneys experience provides us with the ability to fully analyze waiver cases to determine whether the waiver can effectively be challenged. Our goal will always be to keep the case within the juvenile system, as the goal of this system is to rehabilitate, not punish. The benefits of this are numerous.
From bench trials to jury trials in federal, state, or juvenile court, we have the varied experience required to properly handle all potential aspects of a juvenile offense.
Will a Juvenile Crime Stay On My Criminal Record for the Rest of My Life?
Sometimes a mistake we made in our youth can become an embarrassment when we reach adulthood. In addition, these type of incidents can become public after law enforcement gets involved.
But can a juvenile offense stay on your criminal record forever? The short answer is "not really."
Kansas law says juvenile adjudication is eligible for expungement. Additionally, recent state laws now make immediate interventions and uncharged police records eligible as well
Expungement in Kansas means hiding a criminal record from public view—not destroying it entirely. However, potential employers will not be able to see such charges, and you could answer "no" when asked if they have ever been accused or conviction of a criminal offense.
Those with juvenile criminal records may be eligible for expungement once they reach 23 years of age or once two years have passed since the case ended. Juvenile records will not be expunged in the case of convictions for various serious crimes, such as murder or sexual assault.
As soon as you determine your eligibility, the first step is to obtain and complete the appropriate Petition For Expungement form. The docket fee for expungement is $195 for each juvenile case, regardless of the disposition. Ensure your money order is payable to the "Clerk of the District Court."
Deliver your expungement petition and money order to the District Attorney's Office, specifically the Juvenile Division, or mail it in. Processing, which includes a thorough check for further violations of the law, will take approximately eight to 12 weeks.
If the petition is accepted, an order for expungement will be mailed to you. On the contrary, you can receive a denial notification.
When Juveniles Are Tried in Adult Court
There are some cases involving juvenile offenders that are serious enough to be transferred to adult criminal court.
In most states, a youth offender must be at least 17 years of age to be tried as an adult. There are a number of states in which minors as young as 13 years old. A few states, such as Kansas, Arkansas, and Washington, allow any minor who has committed a serious crime like murder to be tried as an adult, no matter what age.
The Following Are Common Factors To Determine Under Which Court System To Try a Minor Defendant:
The age of the minor (if he or she is close to reaching adulthood)
The serious nature of the crime
The criminal history of the minor
Have past rehabilitation efforts proven to be unsuccessful?
How much time would youth services need to work with the minor?
Some juvenile cases get transferred to an adult criminal court through a process known as a "waiver." This is when a judge waives the protections that juvenile court provides, which often happens when cases involve more serious crimes or minors who have committed crimes before.
The most common way that transfer proceedings begin is through the prosecutor's request. However, the juvenile court judge can also initiate transfer proceedings. If the prosecutor or judge seeks to transfer the case to adult court, the minor is entitled to a waiver hearing and legal representation.
On the other hand, some states have "automatic transfer" laws which make it mandatory for certain juvenile cases to be transferred to adult criminal court. So if the minor is a specific age or older (typically 16) and the charges involve a felony or violent offense, such as homicide or rape, then an automatic transfer could occur.
Common Summer Juvenile Crimes
Every summer, young students throughout Kansas and the rest of the United States are out of school for a few months, spending more time at home, on the road, and out and about with friends for long periods of time. However, all this free time can also lead to trouble with the law.
The most common juvenile crimes during summer include, but are not limited to, the following:
Since summer parties and get-togethers typically involve alcohol, which means teenagers and young adults are more likely to drive under the influence. If a driver who is under 21 years of age has a blood alcohol content (BAC) level of at least .02 percent, he/she can be charged with a DUI in Kansas. However, if a young driver's BAC is at least .08 percent, he/she will face more severe penalties, including jail time.
A substantial number of juvenile arrests over the summertime involve cannabis and other drugs. Although a conviction for simple drug possession can lead to harsh penalties, having a drug crime on your criminal record can potentially derail your educational and career plans.
Because many people leave their homes unoccupied throughout the day or while on vacation and the malls are more bustling with activity, there is a significant increase in theft and shoplifting crimes during the summer.
There is plenty of room for social interaction and romantic relationships during the summertime, but sometimes teens misconstrue certain situations and end up committing sex crimes. Unfortunately, Kansas prosecutors are tough on
sexual assault
, which means it is possible for a teenager to be tried as an adult and face extremely harsh penalties, such as imprisonment.
Each city and town in Kansas has certain curfew laws and age restrictions, which means youths are not allowed to be outside without adult supervision during specific hours. In Kansas City, Kansas area youths under 18 years of age cannot be outside unsupervised between 11 PM and 6 AM Sunday through Thursday and between 1 AM and 6 AM Friday through Saturday. When a minor under 16 years old violates the curfew law, his/her parents are subject to a fine of up to $500. If the minor is over 16, he/she may be summoned to juvenile court.
LEARN ABOUT YOUR LEGAL OPTIONS
TAKE THE NEXT STEP AND REQUEST YOUR FREE CONSULTATION WITH A KANSAS CITY JUVENILE DEFENSE ATTORNEY.