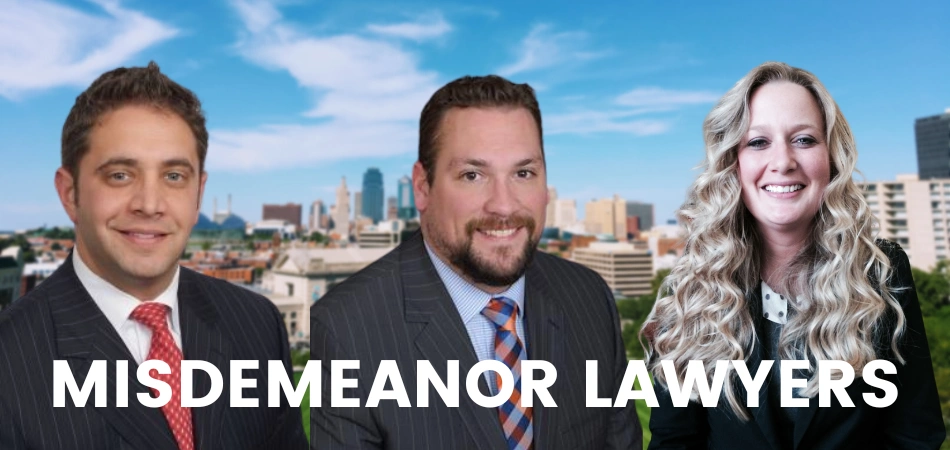 Kansas City Misdemeanor Defense Lawyers - Protecting Your Rights and Fighting for Your Freedom

---
If you're facing a misdemeanor charge, you're most likely wondering if it would be in your best interest to hire a criminal defense attorney to represent you or not. Unfortunately, many people make the mistake of handling misdemeanor offenses without hiring an experienced lawyer to be on their side, rather than using the service of a public defender or, at worst, representing themselves in the courtroom.
It is critical to understand that having an experienced criminal defense lawyer on your side can make a significant difference in the outcome of your case. In fact, an attorney could help get your entire case dismissed or help lower your charges.
Kansas Misdemeanor Classifications
Class A misdemeanors carry a maximum sentence of one year's jail time and a $2,500 fine.
Class B misdemeanors carry a maximum sentence of six months' jail time and a $1,000 fine.
Class C misdemeanors carry a maximum sentence of one month's jail time and a $500 fine.
Unclassified misdemeanors carry the sentence specified in statute, or if no sentence is specified, the penalty defaults to a class C misdemeanor.
The Possibility of Serving Jail Time.
Whether you are charged with a
felony
or a misdemeanor, you face the possibility of doing time in jail or prison. The difference between a felony and a misdemeanor is the maximum period of incarnation you face upon conviction. For example, in Kansas, you could face a maximum period of incarceration of up to one year if convicted.
Having a Criminal Record Can Damage Your Reputation.
A permanent criminal record for a misdemeanor offense can negatively affect your life. It can prevent you from getting a job, going to certain universities, applying for housing, going to the military, and taking advantage of life's opportunities. It can also damage your reputation, impact your future earning potential, and result in embarrassment and humiliation.
Skilled Criminal Defense Attorneys Have Experience.
As your advocate, your attorney is required by law to work for the best outcome and advise you of all possible consequences that could occur, to the best of their ability. An experienced lawyer can help you navigate through the complexities of the criminal justice system. Local attorneys have developed close relationships with local judges, prosecutors, and law enforcement, which may give you an advantage in the courtroom.
LEARN ABOUT YOUR LEGAL OPTIONS
TAKE THE NEXT STEP AND REQUEST YOUR FREE CONSULTATION.