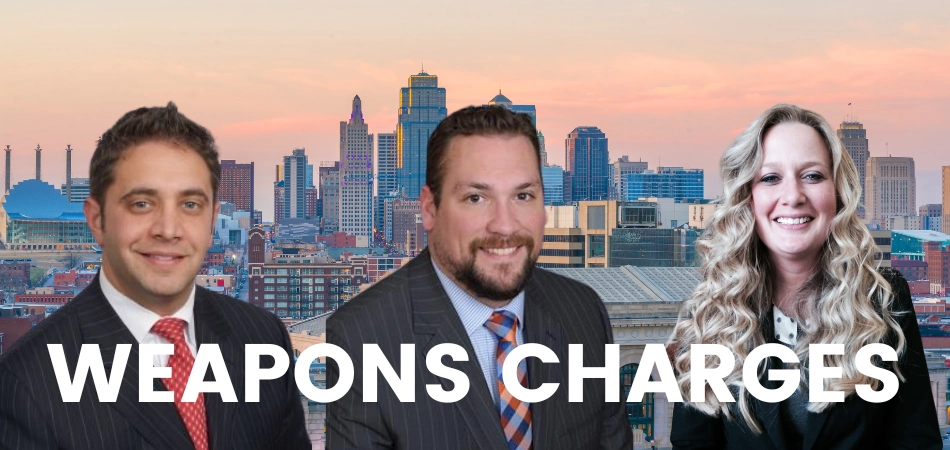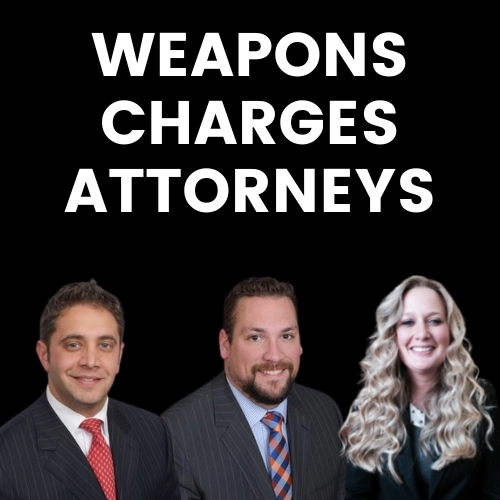 Kansas City Weapons Charges Attorney

---
If you face a felony weapons charge, you could end up spending the next five years in a federal penitentiary. Whenever you are charged with a crime that could result in significant jail time, consultation with an experienced weapons charge attorney can help you understand your rights.
Do not try to talk your way out of a charge, or you could end up giving prosecutors the evidence they need to convict you.
The defense of a weapons charge often has to do with the issue of unlawful search and seizure. As your lawyer, we would analyze whether the police officer did anything illegal in the stop, search, or seizure of the weapon. If there is an issue with the police search and seizure, we work to get the weapon evidence suppressed.
If there is a defense to your drug crime charge, we will find it. Our criminal defense attorneys would never encourage a client to plead guilty to a weapons charge when there is an opportunity for a dismissal or an acquittal.
Your defense is too important to be left to an inexperienced lawyer.
How SRC Law Group Can Help You
Attorney Phil Stein's Unique Values
Phil Stein, a founding attorney of SRC Law Group, brings extensive trial experience to the table, particularly when it comes to serious and complex criminal matters. His background as both a prosecutor and defense attorney makes him exceptionally well-suited to handle weapons charges. Phil's experience with unique evidentiary and legal issues ensures that he can aggressively defend anyone accused of a crime while maintaining a positive professional relationship with law enforcement and prosecutors.
As an attorney in the sex crimes unit for over five years, Phil gained valuable experience in analyzing forensic evidence, including biological forensics, DNA, crime scene processing, toxicology, ballistics, and computer/phone forensics. This expertise can prove crucial in weapons charges cases, where understanding the nuances of forensic evidence can make all the difference in building a solid defense.
Phil attended Kansas State University, where he received a Bachelor of Arts degree in Political Science with an emphasis in Spanish. He went on to attend the University of Kansas School of Law, where he focused on criminal law. Throughout his career, Phil has demonstrated a commitment to defending the rights of those accused of criminal charges, making him an ideal choice for those facing weapons charges in Kansas City.
Attorney Adam Chingren's Unique Values
Adam Chingren, another founding attorney of SRC Law Group, is a dedicated attorney licensed in both Kansas and Missouri. After gaining experience in civil litigation, Adam joined the Office of the Public Defender for the 10th Judicial District of Kansas in Johnson County, where he worked on over 500 felony cases. His extensive trial experience and knowledge in all aspects of criminal cases make him an invaluable resource for anyone facing weapons charges.
Adam's experience with the public defender's office has exposed him to a wide range of criminal cases, from DUI to off-grid sex crimes and first-degree murder. His successes in both district courts and the Kansas Court of Appeals demonstrate his commitment to providing the best possible representation for his clients. This level of expertise is crucial for individuals facing weapons charges, who require a skilled attorney to help them navigate the complex legal landscape.
Recognized as a Nationally Ranked Top 10 Under 40 by the National Academy of Criminal Defense Attorneys in 2019 and 2020, Adam Chingren brings a wealth of experience and a proven track record to SRC Law Group. His dedication to representing clients in Kansas City facing weapons charges makes him a strong advocate for those in need of legal representation.
Attorney Ashley E. Repp's Unique Values
Ashley E. Repp, a founding criminal defense attorney of SRC Law Group, has been immersed in the criminal law field throughout her entire legal career. With experience as an assistant prosecutor in Platte and Clay County, Ashley specialized in DWI/DUI cases and sex-related offenses, giving her a unique perspective on the criminal justice system. Her broad range of experience makes her an ideal choice for clients facing weapons charges in Kansas City.
As a certified forensic interviewer, Ashley's specialized training allows her to provide clients with a comprehensive defense strategy. Her background in prosecuting various types of criminal cases, including assault and property-related offenses, gives her a deep understanding of the tactics employed by the prosecution. This knowledge is essential in building a strong defense for clients facing weapons charges.
Kansas is one of the states that significantly honors an American's Second Amendment right to bear arms. While gun advocates praise the state for their firearm laws, critics believe their gun control laws are extremely lenient.
Anyone who is 18 years of age or older is allowed to open carry a firearm without a permit. While there is no minimum age to possess a firearm in Kansas, a child under the age of 18 is not allowed to carry a gun with a barrel less than 12 inches long, unless he/she is taking a safety course, in a shooting range, hunting with a valid license, or has permission from a parent or elder family member on their own property.
Anyone who is at least 21 years old is allowed to carry a concealed firearm without a permit. If a resident wishes to visit another state that requires a permit, he/she must file for a permit with the local sheriff.
Firearms dealers are not required to obtain a license to sell guns in the state, as long as they aren't automatic weapons, shotguns with barrels less than 18 inches, certain handgun cartridges, spring gun traps, and silencers. Background checks and firearm registration are not required.
There is no limit to how many firearms a resident can own.
The Following Are the Specific Individuals or Groups Who Are Not Allowed To Carry a Firearm in Kansas:
K-12 Schools and Public Areas
Residents and visitors can carry firearms at state parks and forests, in vehicles, on public grounds, in parking garages/lots, in roadside rest areas, in restaurants that serve alcohol, and in vehicles. However, firearms are prohibited in K-12 schools with a "No Firearms" sign, state courthouses, Governor's residence, racetracks, secured facilities such as jails and police departments, places of worship, public libraries, and any place where it is against federal law to carry a gun.
However, according to the Personal and Family Protection Act of 2006, school districts may allow employees to carry concealed weapons on campus.
Unlawfully carrying a firearm on school grounds is considered a class B misdemeanor, punishable by a maximum six-month jail term and a fine of up to $1,000.
For more information about gun laws in Kansas, contact our legal team at SRC Law Group, LLC and schedule a free consultation today.
Illegal weapons possession can be tried as a single crime or in combination with other felonies, such as drug trafficking or armed robbery. In either case, if you are under investigation for a felony gun charge, you need to speak with an experienced lawyer. The Kansas City criminal defense attorneys at SRC Law Group, LLC, have more than 25 years of combined experience. We are here to protect your rights, your freedom, and your future.
Talk to us if you are facing any of the following gun charges:
Felon in possession of a firearm
Use of a weapon in a drug crime
Knowingly purchasing a firearm for a felon
Possession of an illegal concealed weapon
Possession of a weapon in conjunction with drug trafficking
User of a narcotic in possession of a firearm
What Happens if I'm Convicted?
Those convicted of possessing, brandishing, or discharging a gun in the course of drug trafficking or the commission of a violent crime face a minimum of five years in a federal penitentiary. Each subsequent conviction increases the mandatory minimum by 25 years.
Mandatory minimums can be enforced even if the gun was properly registered and was not used during the commission of the crime.
Put a Former Prosecutor to Work for You
Most federal weapons charges are subject to a mandatory minimum sentence. If prosecutors can show that a weapon was used in a drug crime or was found in close proximity to a drug crime, you could receive a longer sentence.
Attorney Phil Stein is a former prosecutor that gained invaluable insight into the prosecution of felony charges, which he now applies in his role as an attorney. If there is any defense to be made, SRC Law Group, LLC, will find it. We never encourage a client to accept a plea deal unless there is no opportunity for dismissal.
Gun Crimes and Your Rights
Kansas, Missouri, and the United States Constitutions guarantee the right to bear arms. Adults in Kansas and Missouri do not need a permit to purchase a firearm or carry a concealed gun.
Those who are not allowed to have guns include:
Those convicted of felonies specified under the criminal possession of a firearm by a convicted felon statue if they have been convicted within the last five to ten years.
Those who are both addicted to and are unlawful users of alcohol or controlled substance.
Mentally ill persons subject to involuntary commitment.
However, there are still expectations where you can conceal carry, it is illegal to carry a firearm on school or university grounds, public libraries, places of worship, jail, any government and state-affiliated buildings, polling stations, mental health centers, and jail. All of these exceptions should include a warning sign which states "you may not carry a firearm on the premises."
While both states do not prohibit the open carrying of firearms, it does not allow any weapon readily capable of lethal use in an angry or threatening manner in the presence of one or more persons.
The Following Are Prohibited Weapons in Kansas and Missouri:
Shotguns with barrels less than 18 inches
Automatic weapons
Silencers
Plastic coated bullets
Bludgeons, sand clubs, throwing stars, and metal knuckles
Tear gas, smoke bombs, and other poisonous gasses and liquids.
Gun crimes in Kansas and Missouri are considered both misdemeanors and felonies.
If you have been arrested for a gun crime, contact SRC Law Group, LLC and request a free consultation with our criminal defense attorneys today.
Is It Legal To Open Carry in Kansas and Missouri?
Kansas Open Carry Law 2017
According to recent legislation, Kansas allows full open carry of all legal firearms, including rifles, handguns, shotguns, and more. This includes weapons that are covered by the National Firearms Act, which includes short-barreled shotguns, machine guns, silencers, and more.
As of July 1, 2015, anyone who may legally own a firearm may also carry it concealed without a permit in the state of Kansas. However, you may still obtain a permit for concealed carry, which can have benefits in other states as well. Kansas is considered to be a "shall issue" state, which means that anyone who meets the criteria for receiving a concealed carry permit shall be issued one, and the state does not require any reasonable grounds or proof of need in order to issue the permit.
Firearms do not need to be registered in the state of Kansas upon purchase, nor do private sales require a background check or authentication from the state or any other governing body.
What happens when you cross the border into Missouri to visit our neighbors? Thousands of people in Kansas City make this trip every day, so what happens if you take your firearm over the state line? Well, the good news is the laws are very similar.
Unlike Kansas, which has a state-wide enforcement of fully-legal open carry, Missouri does not have a state-wide statute, so certain areas may have more stringent restrictions on open carry. However, Missouri's state laws do say that a valid concealed carry license automatically grants the holder the ability to carry the weapon openly, superseding any local laws that may be in effect. If you do wish to carry in one of these areas, you must also keep your concealed carry permit with you.
As of January 1 of this year, Missouri has legalized concealed carry without a permit for all weapons. However, the local bans on certain firearms can still take effect, necessitating the need for a concealed carry permit to continue to carry a concealed weapon in these areas. Like Kansas, Missouri is also a "shall issue" state, meaning the legislator will issue a permit to anyone demonstrates that they fit the pre-outlined criteria.
Missouri Mandatory Registration
Like Kansas, Missouri does not require any registration for firearm purchase, nor does it require any license to carry or own a firearm. Concealed carry permits may be obtained at the age of 19. Private sales do not require a background check in Missouri.
If you have been accused of a gun crime or are facing charges of a crime while you had a firearm on you, obtain high-quality defense from a skilled Kansas City criminal defense attorney by calling SRC Law Group, LLC today! Call (913) 948-9311 to get started.
LEARN ABOUT YOUR LEGAL OPTIONS
TAKE THE NEXT STEP AND REQUEST YOUR FREE CONSULTATION WITH A KANSAS CITY CRIMINAL DEFENSE ATTORNEY.