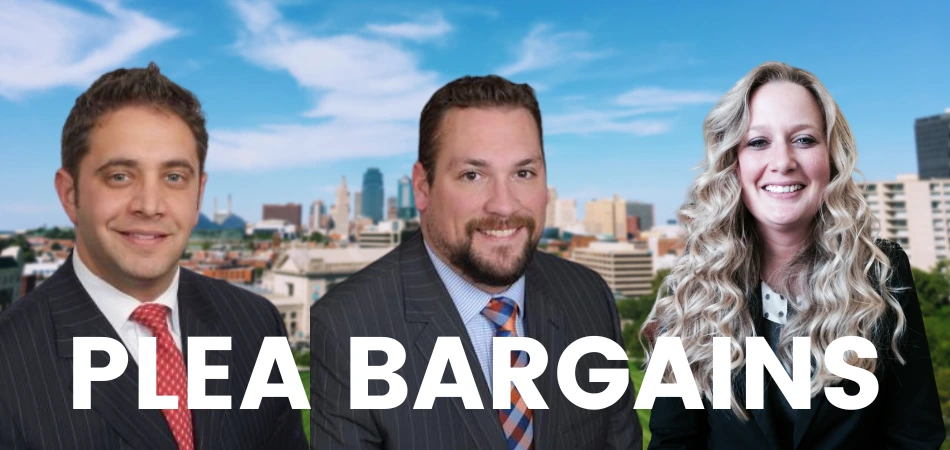 What Are Plea Bargains? Explained by Kansas City Criminal Defense Attorneys
At SRC Law Group, LLC, our Kansas City criminal defense attorneys are committed to helping you either obtain a not guilty verdict at trial or have your entire case dismissed. However, there are certain cases where the best result a person can receive is having his/her charges reduced through a plea bargain.
In fact, the vast majority of criminal cases end in plea deals. Over 90 percent of convictions come from negotiated plea deals, which means less than 10 percent of criminal cases end up going to trial.
In a plea deal, the defendant pleads guilty but receives a lesser charge compared to a conviction upon the end of trial. Plea deals can occur at any point during the legal process, whether it is shortly after the defendant is arrested or prior to the prosecution filing the charges.
How SRC Law Group can help you
Founding Attorney Phil Stein, with his extensive trial experience and well-established professional relationships with law enforcement and prosecutors, ensures that our clients receive the best representation possible. His background in both prosecuting and defending serious and complex criminal matters, including homicides and sex crimes, has equipped him with a deep understanding of the criminal justice system. This, combined with his expertise in handling unique evidentiary and legal issues, makes him an invaluable asset to our clients.
Phil's experience in analyzing forensic evidence, such as biological forensics, DNA, crime scene processing, toxicology, ballistics, and computer/phone forensics, allows him to identify potential weaknesses in the prosecution's case and craft a strong defense strategy. His ability to maintain positive professional relationships with law enforcement and prosecutors enables him to engage in effective negotiation and communication on behalf of his clients. This can be particularly advantageous when pursuing plea bargains or seeking reduced charges or sentences.
Phil Stein's wealth of experience, knowledge, and professional relationships make him uniquely qualified to provide the highest caliber of representation to our clients. When you choose SRC Law Group, you can be confident that you have a fierce advocate in Phil Stein, who is committed to relentlessly defending your rights and achieving the best possible outcome for your case.
Founding Attorney Adam Chingren, who has been recognized as one of the Nationally Ranked Top 10 Under 40 by the National Academy of Criminal Defense Attorneys in 2019 and 2020, brings exceptional skills and knowledge to the table when advocating for his clients. This prestigious recognition highlights his dedication, expertise, and achievements in the field of criminal defense, setting him apart as a top-tier attorney. With a track record of successfully representing clients in a wide range of criminal matters, Adam Chingren's astute understanding of the legal system enables him to negotiate fair plea offers that are in the best interest of his clients.
His experience at the Office of the Public Defender for the 10th Judicial District of Kansas in Johnson County has given him a deep understanding of the complexities involved in criminal defense cases. Adam Chingren's ability to effectively navigate these complexities and develop strong defense strategies has earned him a reputation for obtaining favorable outcomes for his clients. As part of the SRC Law Group team, Adam's expertise in plea negotiations is invaluable, as he works diligently to ensure that clients receive plea offers that accurately reflect the circumstances and evidence surrounding their cases.
Adam Chingren's comprehensive knowledge of the criminal justice system allows him to identify potential weaknesses in the prosecution's case and leverage these to the advantage of his clients. By thoroughly examining each aspect of the case, he is able to craft persuasive arguments that can lead to reduced charges or even case dismissal. In instances where a plea bargain is the most favorable option, Adam's tenacity, experience, and negotiation skills play a crucial role in securing the best possible outcome for his clients.
Founding Attorney Ashley E. Repp possesses a unique perspective and comprehensive understanding of the criminal justice system, having worked on both the prosecution and defense sides throughout her legal career. This experience has equipped her with invaluable insights into the strategies employed by prosecutors, allowing her to anticipate potential challenges and effectively counter them on behalf of her clients. Ashley's dedication to fighting for her clients' rights is unwavering, as she tirelessly advocates for their best interests in every case she handles.
Ashley's background as an assistant prosecutor in Platte County and Clay County, Missouri, saw her specializing in a variety of cases, including DWI/DUI, sex-related offenses, crimes against children, and homicide cases. This specialization, combined with her specialized training as a certified forensic interviewer, has provided her with a deep understanding of the unique complexities and sensitivities associated with these types of cases. As a criminal defense attorney at SRC Law Group, Ashley's knowledge and expertise enable her to craft robust defense strategies tailored to the specific circumstances of each case.
In addition to her impressive legal acumen, Ashley's commitment to maintaining open lines of communication and strong organization skills ensures that her clients are well-informed and confident in the representation they receive. She believes in treating each case individually and is unafraid to fight tirelessly for her clients, whether it's negotiating favorable plea bargains or going to trial. Ashley's experience, dedication, and client-centered approach make her a formidable advocate for those facing criminal charges, and her relentless pursuit of justice contributes significantly to the successful outcomes achieved by the SRC Law Group team.
The decision for both the defendant and the court to enter into a plea depend on one or all the following circumstances:
The seriousness of the alleged criminal offense
The strength of evidence against the defendant
The prospects of a guilty verdict if the case reaches trial
There are two types of plea bargaining: charge bargaining and sentence bargaining.
Charge bargaining is a method where the prosecution agrees to drop some charges or reduce a charge to a lesser offense in exchange for the defendant's guilty plea.
Sentence bargaining occurs when the prosecution agrees to recommend a lighter sentence for specific charges in exchange for a plea.
Keep in mind, a guilty or no contest plea entered as a judge-approved plea deal lead to a criminal conviction, which will show up on the defendant's criminal record. Having a criminal conviction on your record can have a negative impact on employment, education, housing, voting, and other opportunities life has to offer. However, depending on the circumstances surrounding the conviction, the defendant might be able to have their criminal record expunged or sealed.
If you have been arrested for a crime in Kansas City area, request a free consultation with SRC Law Group, LLC today.
LEARN ABOUT YOUR LEGAL OPTIONS
TAKE THE NEXT STEP AND REQUEST YOUR FREE CONSULTATION WITH A KANSAS CITY CRIMINAL DEFENSE ATTORNEY.