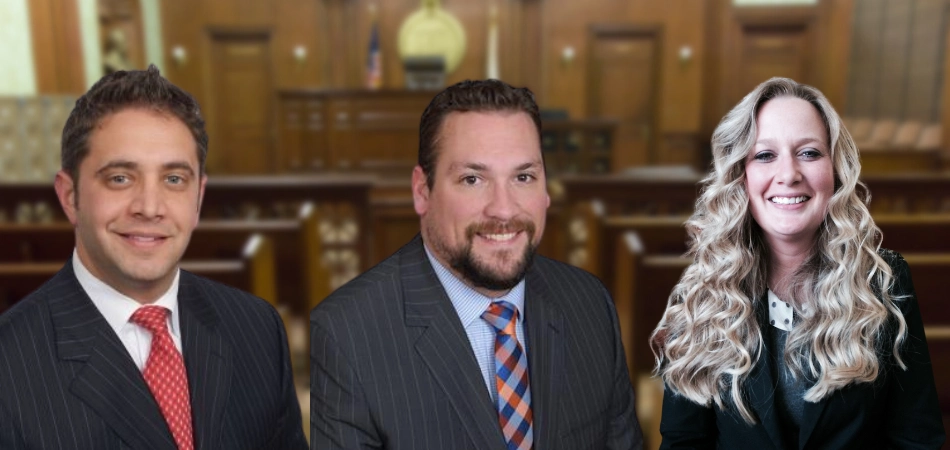 Prescription Drug Charge Lawyers

---
Prescription drugs are not legal for everyone. If you are not prescribed a medication by a doctor, you can go to jail, pay fines, and be convicted of various crimes associated prescription medication.
Both Kansas and Missouri have laws related to the unlawful use of prescription drugs. Furthermore, the states have implemented laws regarding the regulation of prescribed medication and exactly who is allowed to prescribe these substances.
How SRC Law Group Can Help With Prescription Drug Charges
Attorney Phil Stein brings extensive experience in handling unique evidentiary and legal issues to SRC Law Group, making him well suited to aggressively defend anyone accused of prescription drug crimes. Phil's vast knowledge of forensic evidence, such as crime scene processing and computer/phone forensics, can be invaluable in building a strong defense against prescription drug charges. Moreover, Phil maintains a positive professional relationship with law enforcement and prosecutors, which ensures his clients receive the best representation possible.
Phil Stein's background as both a prosecutor and defense attorney enables him to understand the intricacies of prescription drug cases from both perspectives. His experience prosecuting domestic violence, juvenile offender cases, sex crimes, and other major felony cases has given him a unique insight into the strategies employed by the prosecution. As a founding attorney of SRC Law Group, Phil is committed to using his expertise to help clients navigate the complexities of Kansas and Missouri prescription drug laws, ensuring they receive the best possible outcome.
In addition to his extensive trial experience, Phil Stein has a solid educational background that complements his expertise in criminal law. He obtained a Bachelor of Arts degree in Political Science with an emphasis in Spanish from Kansas State University and earned his law degree from the University of Kansas School of Law. Phil's legal education was focused on criminal law, providing him with a strong foundation to defend clients facing prescription drug charges in Kansas and Missouri.
Attorney Adam Chingren is a dedicated attorney in Kansas and Missouri, with a wealth of experience in criminal law. As a former public defender, Adam has worked on over
500 felony cases ranging from DUI to off-grid sex crimes and first-degree murder. This experience has given him extensive knowledge of all aspects of criminal cases, making him well-equipped to handle prescription drug-related charges. Adam is a successful trial attorney who has argued cases in District court and before the Kansas Court of Appeals, demonstrating his ability to effectively represent clients in complex legal matters.
Adam Chingren's background in civil litigation has provided him with valuable experience in various aspects of litigation, from drafting pleadings and conducting depositions to trial. His comprehensive understanding of the litigation process and criminal law will be instrumental in building a robust defense for clients facing prescription drug charges in Kansas and Missouri. As a founding attorney of SRC Law Group, Adam is dedicated to providing personalized legal representation to clients accused of prescription drug offenses.
In recognition of his expertise in criminal defense, Adam Chingren has been nationally ranked as a Top 10 Under 40 attorney by the National Academy of Criminal Defense Attorneys for two consecutive years (2019 and 2020). This prestigious ranking highlights Adam's commitment to excellence in criminal defense and his ability to secure favorable outcomes for clients facing prescription drug charges in Kansas and Missouri.
Attorney Ashley E. Repp, a founding criminal defense attorney at SRC Law Group, has been in the criminal law field her entire legal career. Her experience as an assistant prosecutor in Platte and Clay Counties in Missouri provided her with invaluable insights into the prosecution's strategies and tactics. Ashley has specialized in various areas, such as DWI/DUI cases, sex-related offenses,
crimes against children, and homicide charges. This diverse background equips her with the skills necessary to defend clients charged with prescription drug crimes in Kansas and Missouri.
Ashley's time as a prosecutor allowed her to gain specialized training, including becoming a certified forensic interviewer. This expertise can be particularly beneficial when representing clients facing prescription drug charges, as it enables her to uncover and scrutinize the evidence gathered against her clients. As a criminal defense attorney, Ashley has handled a variety of cases, including DWI/DUI, sex-related offenses, manslaughter, property-related offenses, drug-related offenses, domestic violence, and assault. Her commitment to client contact and organization ensures that her clients receive personalized attention and tailored legal strategies.
Ashley E. Repp's values of experience, dedication, organization, honesty, hard work, and drive are reflected in her approach to legal representation. She believes that each case should be handled individually and is not afraid to fight for her clients. With her comprehensive understanding of criminal law and her focus on achieving the best possible outcome for her clients, Ashley is an excellent choice for those facing prescription drug charges in Kansas and Missouri.
In conclusion, the founding attorneys at SRC Law Group - Phil Stein, Adam Chingren, and Ashley E. Repp - offer a unique combination of experience, expertise, and dedication to clients facing prescription drug charges in Kansas and Missouri.
Kansas Prescription Drug Laws
According to Kansas law, the unlawful possession and distribution of a prescription drug includes:
Creating, altering, or signing of a prescription order by an individual other than a doctor or mid-level practitioner.
Distributing a prescribed order, knowing it to have been created, altered, or signed by a person other than a doctor or mid-level practitioner.
Possessing a prescribed drug with the knowledge that it has been obtained pursuant to a prescription order made, altered, or signed by an individual other than a doctor or mid-level practitioner.
Providing false information to a doctor or mid-level practitioner in order to obtain a prescribed medication.
If you are found guilty of violating prescription drug laws in Kansas, it is considered a Class A nonperson misdemeanor. This type of misdemeanor is punishable by a maximum jail sentence of one year and a fine of up to $2,500. However, depending on the severity of the drug and the defendant's prior criminal record, the charge may be increased to a felony.
Missouri Prescription Drug Laws
In Missouri, a pharmacist may sell and dispense prescribed medication to any individual who has a prescription from an authorized practitioner within the state. Additionally, all written prescriptions need to be signed by the individual who is prescribing the drug and must include the correct date, full name of the patient, and his or her address.
Unlawful possession of a prescription drug is considered a Class C felony, which results in a maximum prison sentence of seven years. If you are not able to show a valid prescription for the drug you possessed, or are accused of a forged prescription, a conviction carries a minimum sentence of one year in prison.
The high price of prescription medication, as well as the epidemic of opioid abuse, has resulted in an increase in prescription drug fraud in Kansas and all over the country. While some people commit this type of drug crime as a means to obtain the medicine they cannot afford or to supply their addiction, others do so in order to sell prescription drugs for a profit.
Common Ways To Commit Prescription Drug Fraud:
Commonly known as "doctor shopping," this occurs when a person visits multiple doctors to obtain multiple prescriptions without telling them about all previous visits.
Forging signatures on prescriptions.
Altering prescriptions to change the prescription amount or the type of drug.
Stealing a prescription pad.
Using computers and printers to fake prescription pads.
Pretending to be a doctor or healthcare provider to obtain prescriptions.
Providing false information to healthcare providers.
Not only do patients commonly commit prescription drug fraud, physicians and medical professionals (e.g. nurses and pharmacists) are also commonly charged with this crime by issuing fraudulent, invalid, and unusual prescriptions. Prescription fraud committed by healthcare providers generally happens either during or outside the normal course of their practice or job duties.
In Kansas, obtaining a fraudulent prescription is a Class A misdemeanor; however, a second or subsequent offense is considered a severity level 9 nonperson
felony
. Selling a fraudulent prescription is also a severity level 9, nonperson felony. Keep in mind, the charges could be harsher depending on the extent of the fraud (e.g. the number of false prescriptions, the amount of drugs involved, the number of people affected, etc.)
Common Criminal Defense Strategies in Prescription Fraud Cases Include:
The doctor or medical professional acted in "good faith" if a patient isn't truthful about his/her medical information.
Unlawful search and seizure.
The defendant was not aware they were in possession of a prescription drug.
LEARN ABOUT YOUR LEGAL OPTIONS
Take the next step and request your free consultation with a Kansas City criminal defense attorney.